Let me start out with the most iconic structure Italy has, The Colosseum. Believe it or not, I wanted to skip going in The Colosseum because I never imaged it to be what it is. Photos don't do it justice. This thing is jaw dropping incredible. This was moment that it really hit me, I'm in MF-ing Rome. I took a selfie and sent it to my mom reading "momma we made it!", and thanked her for all her support in my fine art degree. Because of her and several other loved ones, I was living in my dreams. That was one of the best feelings I had the entire trip.
Ok now lets start from the beginning. This is my graduation trip that I have been dreaming about since a kid and planning for about a year, well my friend Jessica did most of the planning :D. I'm traveling with 5 other people, 3 of which had already been to Italy before. (Travel in groups to make apartment rentals cheaper!) The flight was looooong. 9 hours to London and then 2 hours to Rome not including the layover. (Use credit card points to make flights cheaper!) I spent two days in Rome visiting the Trevi fountain where I made a wish that I already forgot about lol, Vatican City, where I accidentally skipped St. Peters's Basilica :( , The Colosseum where I took 50 selfies, and The Roman Forum where the audio guide was actually good and I learned new things and the Spanish Steps.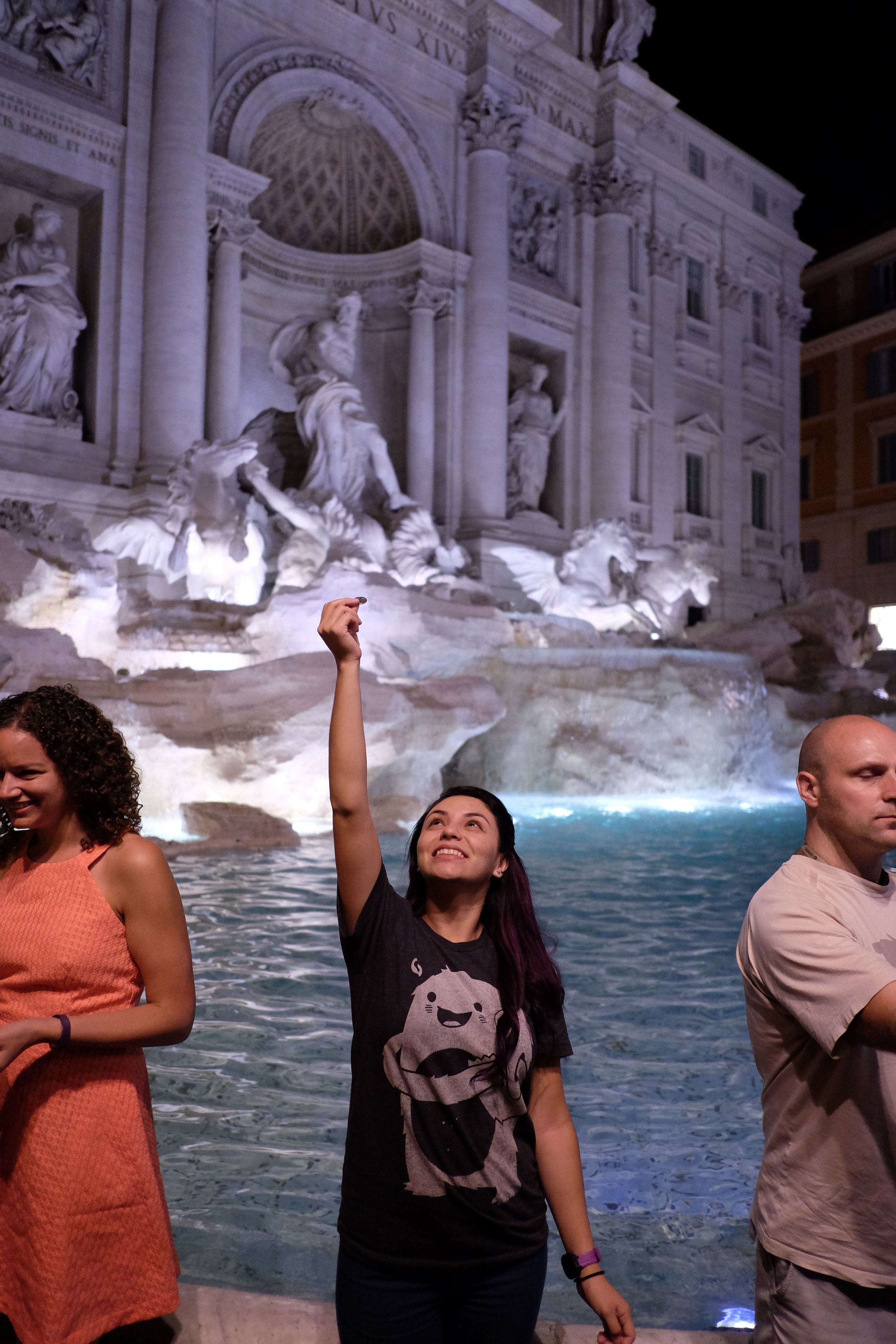 Inside Vatican City is The Sistine Chapel, one of the things I most looked forward to. There was soooooo many people. And the entire time there were guards shushing everyone and yelling "NO PHOTOS!" It wasn't the experience I'd hoped for, where I walk in go to the center of the chapel and lay on my back until I looked at every inch of that roof. No. My neck cramped from looking up for so long, but it was still incredible to see such detail painted by the great Michael Angelo 😭 so it was worth it and I am HAPPY. The last night in Rome, I took off in to the night with my gps in my hand to find the Spanish steps. I took a sip of the water fountain and lived. 🤗
Things you might want to know if you are planning to visit these places and any other museums in Europe:
Buy skip the line tickets in advance.
You can bring bags, it will go through an XRay machine.
Avoid tourist trap restaurants like the one right in front of Vatican City entrance.
Have cash instead of plastic.
Florence has sooooo much to offer! It was one of our longer stays, 4 days in this gorgeous city full of history and art! The day we arrived, we all went on a private wine tour and did a lot of tasting and a lot of walking. Second day there was all about art and adventure. Of course the statue of David at the Accademia gallery is a must. Do wake up as early as possible and go with a skip the line ticket as soon as they open. You should walk straight to the statue and come back to look at the rest of the art after you get about 10 minutes of quiet time before all the tourist groups come in. Also, I did get the audio guide, it was interesting. Before leaving to the Uffizi Gallery, we stopped at this Italian leather shoe shop across the street from the Accademia gallery and bought the softest most comfortable sandals I've ever put on my feet. I didn't even get the name of the shop because I was so excited about my purchase. So I wore my new sandals to the gorgeous Uffizi Gallery where I saw one of my favorite paintings, The Birth of Venus by Botticelli. After getting my doze of historic art, I met two of my friends who didn't go to the galleries for an intimidating vespa ride around the Florence. It was soon much fun, the views are magical, I highly recommend it, just make sure you have your drivers license.
I fell in love with the Florence Cathedral. I didn't get a chance to go inside because it always seemed to be closed, I didn't even plan on going inside ever. Even though I am not a religious woman, going into cathedrals is one of my favorite things to do on this planet.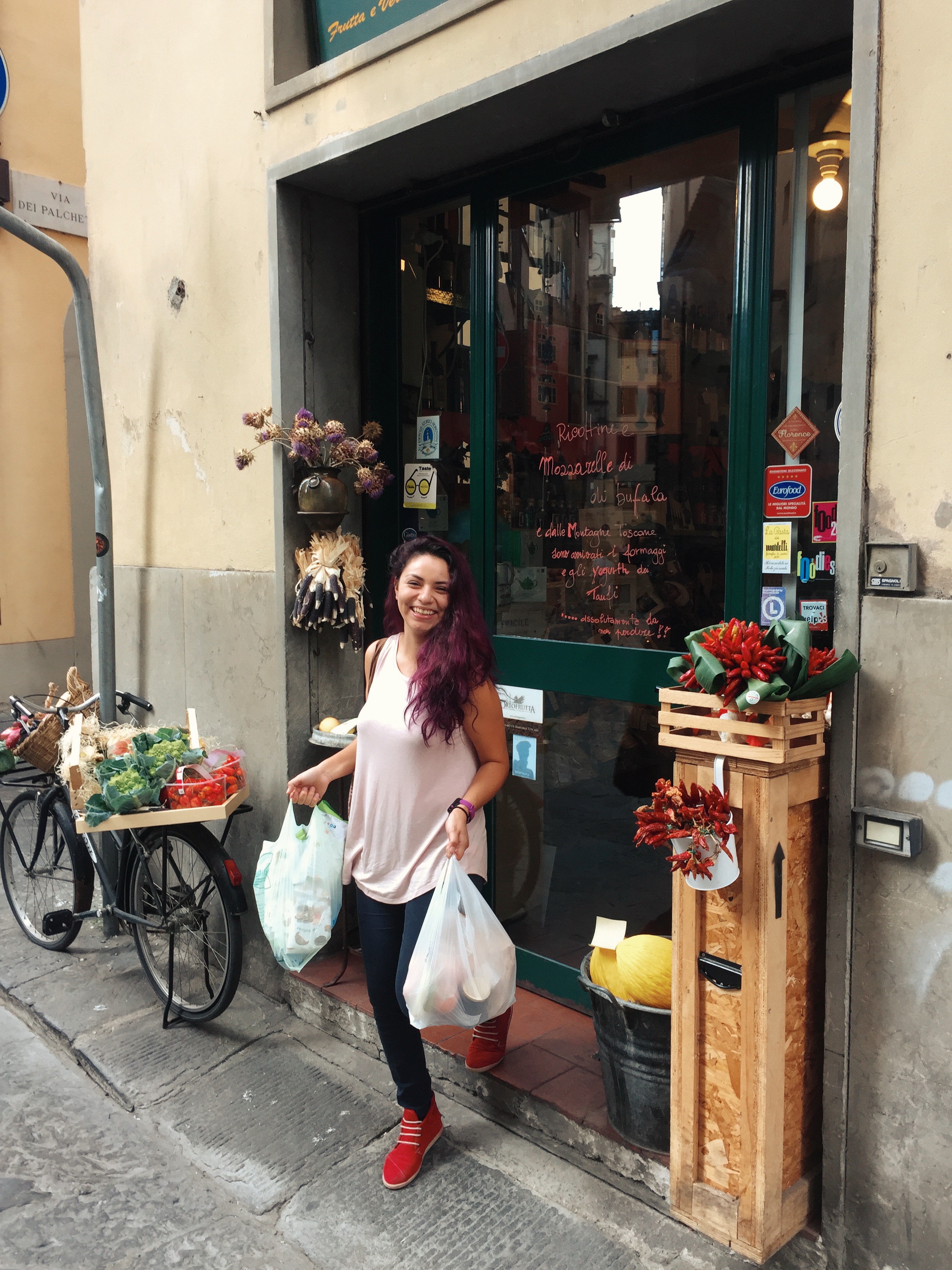 Tuscany, Pisa & Cinque Terre
Two out of the 4 days we stayed in Florence, we made day trips outside of the city with a private driver who's voice we will for sure never forget. Day 3 was a day trip to three little towns around Tuscany called, Montepulciano, Pienza, and Montalcino. All three were super cute and full of character, I believe we spend about 2 hours at each town. Our driver would park, give us some recommendations and let us go off to explore on our own. Day 4 we took off to Cinque Terre making a short stop to see the leaning tower of Pisa. The marble was so white and clean. Cinque Terre is made up of 5 towns that are connected by train, boat or a hiking trails. The hike I will never forget, I was more concentrated on not passing out from the unexpected workout because well there are no hospitals in Cinque. The views made it worth it. The entire time I was starring at the sea wishing I had brought my bikini so I could just jump in. We didn't expect it to be this hot in September. I regret not staying a night or 5 in Cinque Terre so much. But I was going for the art so I didn't think it all the way through. Next time!
Venice, the dying city known for gondola rides and mascaraed masks. It was pretty cute guys but not my favorite even if this is one of the cities I dreamed of visiting the most. When we arrived by train the public transportation boats were closed because they were on strike. The taxi boats were way wayyyy overpriced, yet people still lined up for them. There was a lady on crutches, sounded American, looking for her bag that had her passport in it... that reminded me to grab my backpack and purse tight. There was tourists everywhere, steep bridges, narrow walkways and no cars just boats. Our gondola ride was hot, and not just because of the guy in the hat and stripped shirt. He told us a little about how all the locals are moving out of the island because of all the floods. I didn't stay the night in Venice, instead two friends and I rented a car and drove off to go rock climbing on The Dolomites. Ive decided to end this blog with Venice and make a separate blog for The Dolomites.