Just got back from my road trip to New Mexico and am almost done going through all 2,000+ images taken including three portrait sessions. This series is a handful of emulations from the famous drug show, Breaking Bad, filmed in Albuquerque NM.
I LOVE THIS SHOW!
Just to mention I was not able to go to Arizona because of the hurricane here in Houston and am still heart broken about it but hope to make it next year!
Alright lets get started! Any photo that I am not in was taken by me. Any photos that I AM in was taken by mah boi Alex Beheshti, who is also a big fan of Breaking Bad. Probably more than me... definitely more than me.
Directions: Click the left and right arrows to see the video still from the show.
All show stills are borrowed from google search images.
First Stop, The Dog House
After my first Portrait Session we had dinner at this adorable hot dog joint! The hot dog is soooo good! The chili is really spicy but what isn't in New Mexico?! One of the scenes here, when Jesse gives a fat stack of "Bad Money" to a hobo and then starts tossing it out of his car like he is distributing newspaper. Powerful scene. Jesse is my favorite.
Second Stop, The Car Wash
After the drive from Houston to Albuquerque, you can imagine what my car looked like, so this first stop was a double whammy. This car wash was where Walter worked and later quit by telling his boss "fuck you and your eyebrows!" and "wipe down this!" while grabbing his junk. Favorite scene there!
They really did an A1 job! All the dead bugs were off the front of my car and the wheels were shinny!
Next stop, Walter Whites House.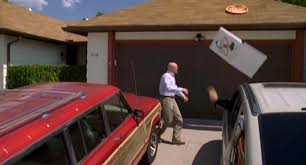 Security cameras, alarm systems, cones, gates, this house is obviously owned by non fans. The couple you see sitting outside, guard their home from breaking bad fans and make everyones life miserable! Just kidding. Apparently the house owners agreed for their home to be in the show thinking it wouldn't be a big deal, but what they didn't know is that it would be one of the greatest shows EVERRRRRRR. I guess I would be a little annoyed if people kept throwing pizzas on the roof of my house. But I wouldn't even be mad if they brought an extra one for me to eat! I herd it was mainly the lady who is a bad sport about tourists and sometimes even screams "it's just a house!", non fans will never understand. I wonder how much they could sell it for!?
In the 5 minutes we were at the house about 4 other cars stopped to take photos. This little guy came out of the car holding his dads hand and I had to get a photos of his shirt! They were a family of 4 and were all wearing Breaking Bad themed shirts it was adorable. #famgoals
Next stop, Crossroads Hotel
The Crossroads Motel is where Wendy the hooker did her thang! One of my favorite quotes is said by Hank to Wendy, "How much for a windy Wendy" lol!
Shortly after this photo some dude came out of nowhere screaming and kicking the air aggressively, OBVIOUSLY ON METH, making us run in to the car as he got closer causing me to panic lol. We got the full experience and didn't even have to pay a penny.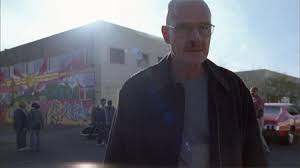 This place is actually a restaurant called Java Joe's, delicious food! *mouth watering*
But this scene is when Walter White blows up Tuco's place after he beat the crap out of Jesse with a pillow case full of stack of cash and stole all his drugs. Walter creates respect and fear to the name Heisenberg, collects his moneys and tells Tuco he will be bringing double the meth next week for him to distribute. Boss.
Next Stop, Jesse's Pick up Point
The spot where Saul Goodman told Jesse Pinkman to wait to get picked up at an exact time, but Jesse never got in the van. I remember thinking that this location was so cool looking when watching the show. This is NOT a cemetery. Well done director of photography because that zig-zag lighting looked great! Not mine though jaja!
Next Stop, Los Pollos Hermanos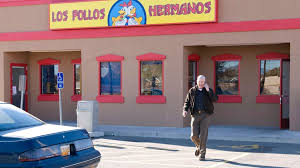 Gustavo's cover up business. We ate a burrito for brunch here and it was good. Nothing compared to Juanderful Burrito in League City, TX or Santiago's in Longmont, CO. The actual name of the restaurant is called Twisters. They are everywhere so make sure you go to the correct one.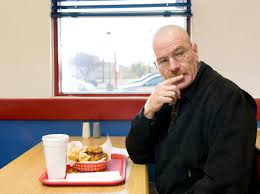 We didn't have time to hit up more spots but I tried to pick the ones that were around where we were at the moment. I didn't do the RV tour but Alex did some years ago and he says it's worth it! You get to ride in the same RV used in the show. I just wanted the freedom to go wherever whenever. If you haven't watched the show you are missing out ok? So get on Netflix and watch it. :)
- Jacke A.